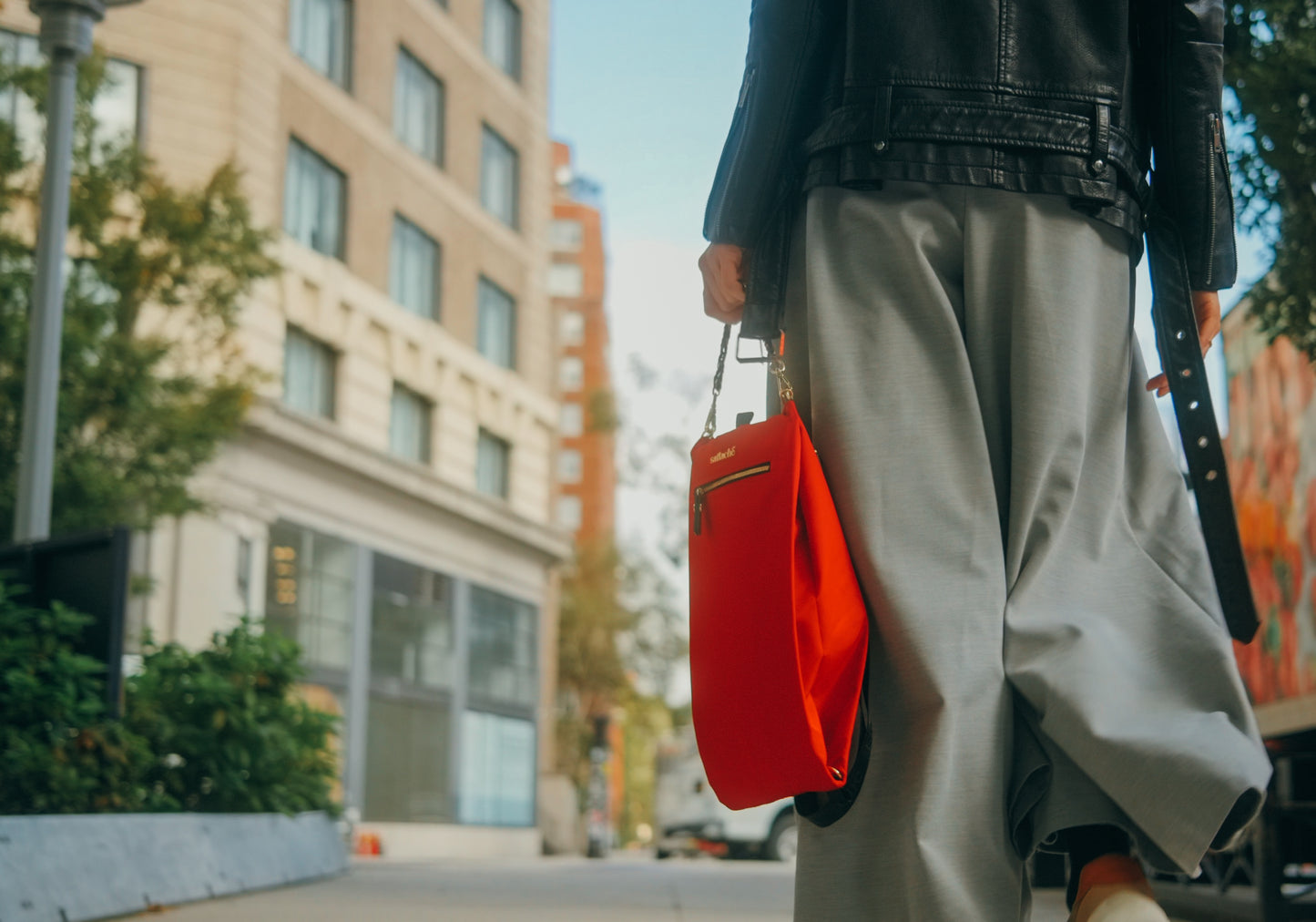 As the seasons change, why not make the most of your closet space during your wardrobe transition? Scroll on to discover our 10 favorite tips for a tidy and effortless switch.
1. Assess Your Wardrobe: Start by taking a good look at your entire wardrobe. Identify items you no longer wear or need and consider donating, recycling, selling, or gifting them to help reduce waste. Tip: Make it a habit to regularly revisit your wardrobe and remove items you no longer wear. This prevents any unwanted clutter from building up. Consider adopting a minimalist approach to your wardrobe which is a great way to remove items you no longer want or need while keeping eco-friendliness and style in mind.
2. Seasonal Sorting: When it's time to sort your clothes and accessories for the season, start by dividing them into two categories: summer and fall. To store off-season items, we highly recommend using eco-friendly solutions. Opt for reusable storage bags, fabric garment bags, and containers made from sustainable materials. Consider stylish bins or baskets crafted from linen, cotton rope, or wicker – not only are they environmentally friendly, but their neutral colors make them a perfect fit for any decor style. Marie Kondo has a nice collection of these types of storage items. Drawer dividers and small storage bins are great to keep items like socks, scarves, and accessories neatly organized.
3. Shoe Solutions: Consider clear shoe boxes or shoe racks to keep your footwear organized and visible and be sure to rotate your shoes seasonally. We love this eco-friendly shoe rack which is stackable and made of pine wood. Speaking of smart solutions, The Sattaché Classic bag is a functional and eco-friendly option that can be used to store and transport your additional shoes with ease. It's a fantastic year-round accessory that is perfect to bring along on a busy day, while traveling, or when you know you'll be doing a lot of walking. The Classic comes in stylish onyx, rouge, and navy colors.
4. Closet Cleanse: Give your closet a thorough cleaning. Wipe down shelves, dust, and vacuum to create a fresh space for your wardrobe. We love these DIY cleaning sprays you can easily make right at home.
5. Hanger Hacks: Consider slimline hangers to maximize hanging space. They take up less room, leaving more space for your clothes. Wooden hangers are also a wonderful eco-friendly choice.
6. Label Dividers: If you have multiple seasonal storage bins, label them clearly and rotate them for easy access to specific items.
7. Layer Strategically: Keep frequently worn items accessible. For example, for the fall, layer sweaters and cardigans on shelves or in drawers for easy access. We love this sweater organizer, made of bamboo, by West Elm.
8. Use Vertical Space: Install hooks or pegs on the inside of closet doors to hang bags, belts, or jewelry.
9. Create a Capsule Wardrobe: Select a few versatile pieces that mix and match well for the season. This reduces clutter and simplifies your daily choices.
10. Plan for Seasonal Trends:  While setting aside space in your closet for seasonal trends is a great idea, it's essential to be discerning in your choices. Avoid fast fashion items known for their disposable nature and higher environmental impact. Instead, prioritize high-quality, sustainable options, ideally crafted from recycled materials. This ensures that your fashion choices are not only stylish but also good for the planet.
A well-organized wardrobe brings numerous benefits. Not only does it save valuable space and reduce clutter, but it also simplifies your daily routine, making getting dressed a breeze. So, go ahead, revamp your closet with these smart tips, and embrace a more organized and environmentally friendly wardrobe transition.