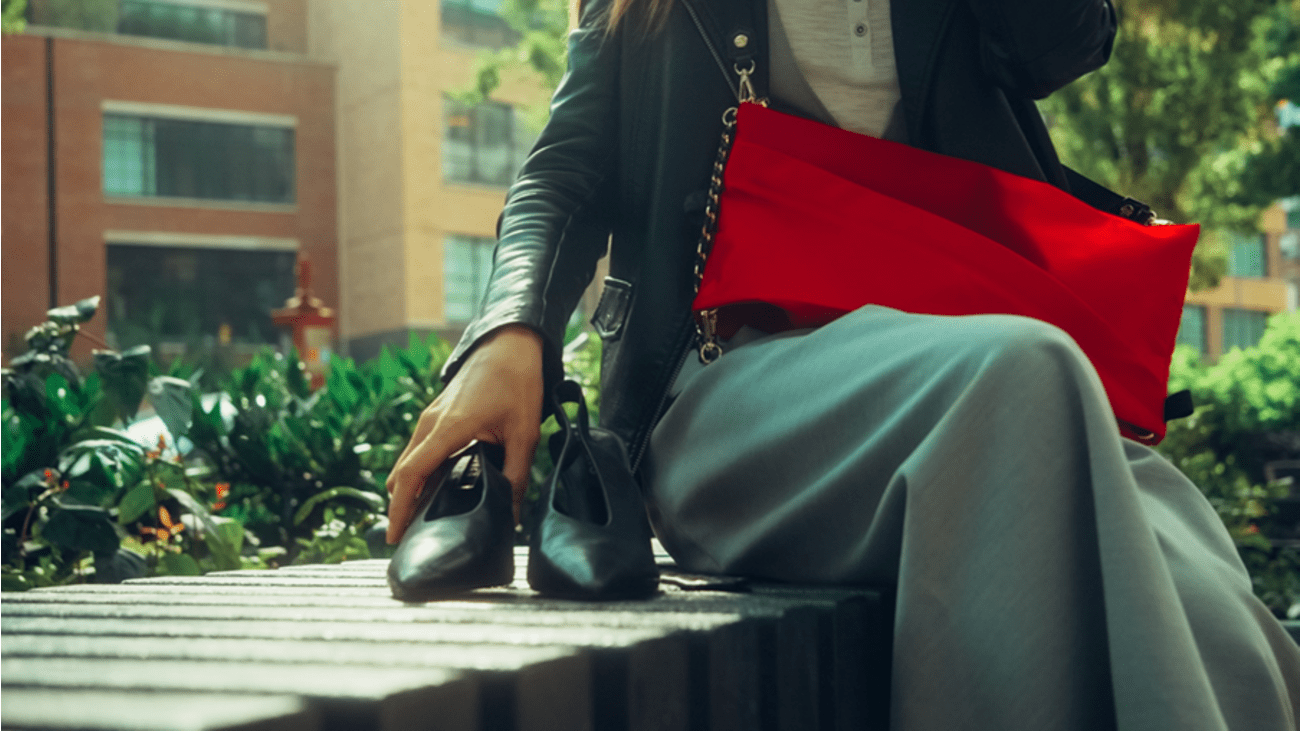 We all love our shoes for the beauty, character, and ultimate style they bring to enhance and complete any wardrobe, and while a fabulous pair of shoes can be that extra touch needed to help you conquer the day, it's no secret that your shoes need regular care to keep them looking and performing their best.  Investing in a great pair of quality shoes is always a smart idea as long as you know how to keep them looking beautiful. Put your best foot forward with our go-to shoe hacks - these hacks will help keep your footwear looking perfectly new, and you'll love your fabulous shoes even more with this handy guide.  
#1 Sattaché Your Way Towards Efficient Shoe Storage and Packing
The Sattaché Classic bag is your new best friend for taking care of your shoes! This stylish bag not only provides convenient storage for your shoes but also acts as the ultimate shoe protector. It's perfect for you and your feet, making your daily activities a breeze.
Worried about your shoes staying fresh and clean? No need to stress! Every Sattaché Classic bag is infused with antimicrobial and anti-odor protection, so you can rest easy knowing your shoes are in good hands.
Planning a trip? The Classic has got you covered. Just place an extra pair of shoes inside and toss it in your suitcase or roll it up to fit in your purse or luggage. It's so versatile!
And wait, there's more! The bag comes in three beautiful shades that work for all seasons, onyx, navy, and rouge.
#2 Repurpose, Repurpose, Repurpose
Keep your shoes looking as new as the day you bought them by repurposing materials you already have at home. Items like plain old cotton tees, newspaper, or left-over packaging material can work as effective shoe stuffers to protect and maintain the shape of your shoes year-round. With this easy hack, your shoes will be slouch-free, crease-free, and ready to wear at a moment's notice.  By reusing materials that you already have at home, you're reducing waste at the same time which is a great way to be more eco-friendly. 
#3 Stay Grounded with Heel Protectors
Whether it's walking on a grassy field that you sink into or struggling to balance on a gravel road, experiencing the less-than-ideal conditions while you're in a fabulous pair of skinny heels can be quite a pain, literally! Fortunately, a good set of heel protectors will put an end to those dreadful scenarios, as they prevent damage to the heel stem and offer better traction while walking. Heel protectors are especially useful when walking around all day or attending outdoor events like a dinner party or a beach wedding. And of course, when it comes to wearing heels out, you can always bring along the Sattaché Classic bag which works as both a stylish outfit accessory and a convenient place for shoe storage when your feet need a break. We'll take both any day!
#4 Banish Those Unwanted Scuff Marks, Stubborn Stains, and Creases
To tackle scuff marks, you'll need vaseline, a suede brush, and cleaner bar to use on leather, suede, or nubuck shoes. For scuff marks on leather shoes, apply a generous dab of vaseline onto a cotton swab or towel and swipe over the area. Let it sit for 30 seconds and then wipe clean. To obtain clean suede shoes, use a suede brush and a cleaner bar to clean the surface and remove any marks.
Grease and oil stains on suede shoes? Cornstarch, a suede brush, and a nail filer will come in handy. Place a generous amount of cornstarch on the stain, let it sit overnight, and then brush off the cornstarch the next day with a suede brush. The cornstarch will absorb the oil, but if the stain is still visible, dip a toothbrush into white vinegar and spot clean. To remove minor stains on suede, apply a nail filer over the area to buff it out.
To prevent creases on flat shoes and sneakers, crease preventors or sneaker shields are a must, as they keep the shape of shoes intact without altering the foot length or the fit. Simply place them in the toebox of your shoes and wear as usual. We recommend this crease protector. Side note - this works great on a men's shoe as well!
#5 Go Natural
Lavender and cedar can be used as a natural and effective moisture repellent for your shoes. A natural lavender fragrance like this lavender floral fragrance mist will do just the trick to keep your shoes smelling fresh and clean, and the bottle is small enough to take with you on-the-go. Spray the mist directly inside of your shoes or onto these beautiful shoe inserts which will help to preserve the shoe shape while also adding freshness. These lavender bags are another great option to help remove odors, plus they are non-toxic and eco-friendly. Our tip: for on-the-go shoe protection, place shoe inserts or lavender bags into your spare pair of gym or day shoes and store them in the Sattaché Classic bag.
Additionally, tea bags are another great trick to eliminate shoe odors. Simply grab two tea bags of your choice and place the bags into boiling water for just over a minute. Make sure the bags are fully saturated. Remove the tea bags and let them cool down. Place the tea bags into your shoes and leave in for 1-2 hours. The dampness and loose leaves in the bags will enable the tannins, which are powerful natural antibacterial agents, to seep into the shoes and kill off any odor-causing bacteria.
And just like your beloved shoes, your feet can always use some TLC after a long day. After all, happy feet mean happy shoes! Unwind and enjoy a moment of calm and relaxation with this soothing DIY Tea Foot Soak.