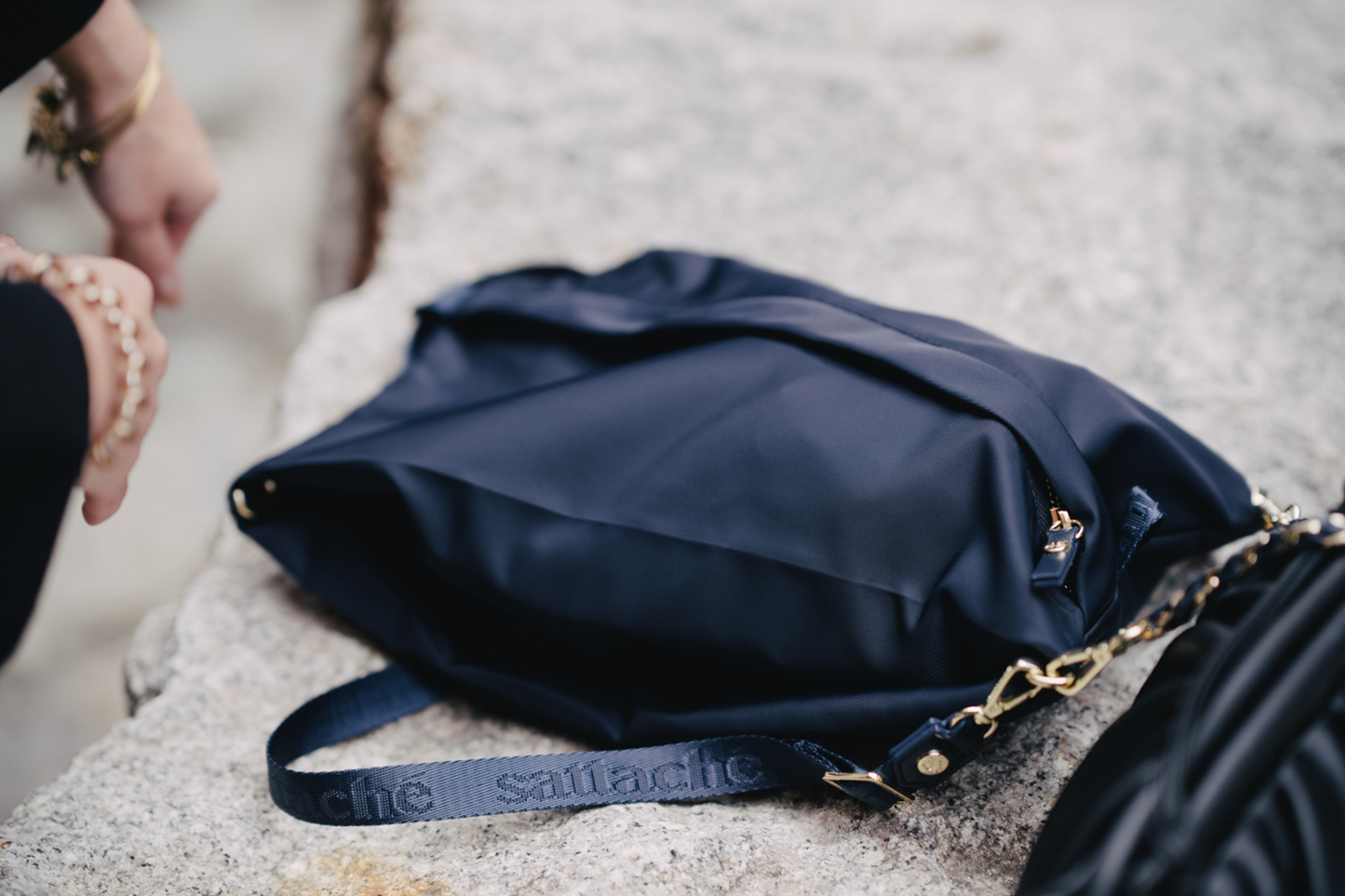 Planning a vacation getaway or traveling to visit friends and family? We have you covered with our favorite packing tips that will help make your travel trip a breeze. When it comes to packing, we know, it can be a dreadful activity. A lot goes into it - figuring out what items to bring, how to pack most efficiently, and keeping your items organized. Follow our packing guide and get to your destination with ease and relaxation – it will make your entire travel experience that much better.
#1 Maintain Cleanliness
Before you begin packing, check the inside of your suitcase to make sure you're placing your items down in a clean storage space. If your suitcase needs a cleaning, follow these steps. Make sure to separate your shoes from your belongings - we can't stress enough how essential it is to keep the grime and dirt from the soles of your shoes away from your items. Our Sattaché bag is the perfect hygienic solution for shoe storage; not only does it protect your shoes, but it also helps to protect your other personal items.
Let's also not forget that luggage goes through airports, planes, restrooms, and other public places. When you get to your destination and when you return home, wipe dirt and debris off of your suitcase wheels and carry-on luggage with a soft brush and soap and water before you store it away.  When setting your luggage down, place it on a luggage rack – never on your bed!
#2 Choose Essentials
Whether you're going to do the beach or heading to a cool climate, wardrobe essentials are a must. Essential accessories like our Sattaché Classic Bag can be worn in many different ways, making it a go-to bag for any outfit. This versatile bag can be worn as a stylish crossbody bag, a backpack, hand-held, or drape it off of the handles to your favorite tote.  Versatile clothing options, like a tunic and a denim jacket are also great options. Select jewelry pieces that work for every-day, as well as tees and sweaters in solids and neutrals which can be worn alone or as layers. Bring along two patterned separates to match your neutrals with, and dresses that you can wear from day to night – a classic wrap-dress, a flowy maxi dress, or a sleek LBD are all excellent options. 
#3 Save space with Marie Kondo's Packing Technique
We are a huge fan of Marie Kondo's packing tips– then again, who isn't!? We love how Marie Kondo reframes the concept of tidying as an enjoyable experience through her famous Konmari Method. Plus, she offers a packing technique that is the ultimate space saver. Kondo recommends to fold clothing as small as possible, roll thinner fabrics to prevent wrinkles, and store items into your suitcase vertically. Checkout Kondo's video to view her packing tips and tricks.
Kondo is a big fan of using bags to store your pairs of shoes as well, and we couldn't agree more. Our Sattaché Classic Bag serves as a shoe organizer, allowing for easy and convenient shoe storage. It offers on-the-go access, perfect for those moments when you need to swiftly change your outfit after a flight or drive. Plus, The Classic can easily slip on to your carry-on bag. We're all for a shoe bag that adds simplicity, easy access, and lots of style! 
#4 Unpack Right Away
We can't stress this tip enough! Unpacking as soon as you get to your destination will allow you to unwind, relax, and get your trip started. Plus, you'll feel more settled in when you're not living out of your suitcase. Unpacking is quite simple – folded clothing items can be easily transferred from luggage to your storage space and all other items can go directly into the closet. Not only will you feel more organized, you'll also be able to pair your outfits together with ease.  Because our Sattaché Bag is water-resistant and antimicrobial, it's safe to take to the pool, beach, or any type of water activity.  
#5 Don't Pack Too Early Or Wait Until The Last Minute
Timing is key when it comes to packing. We recommend packing two or three days before you travel. If you have to pack before the three-day window, write out a packing list of all of the items you're bringing so that you can keep track and stay organized. Waiting until the night before or the day-of to pack may add unnecessary stress, and you're bound to forget something, so time it right! 
P.S. – Use our Sattaché Everything Bag
to pack your favorite purse or various essentials.